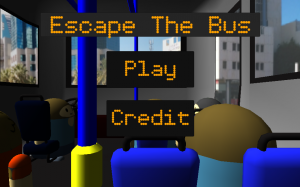 This is the most sensitive game I've been involved with.
This game was developed after a bus stabbing attack in Tel-Aviv [full story]
In this game we tried to give the player the experience of being on that bus, waiting for his turn while other people are getting hurt.
You get to play each of the people in the bus, one by one, seeing the story of the bus unfold, created by your own actions.
Even if we couldn't add all the planned features, it still makes an interesting experiment of handling such a serious issue with a game.
Credits:
Shiri Blumenthal – Art, Game Design
Oren De-Panther Weizman – Programming, Game Design
Adler Ido – Programming, Game Design
Alon Kaplan – Background Music
Yarron Katz – SFX
Based on Daniel Refael's idea